Essays
The Taming of the Anti-Bride
This piece on planning a wedding was first published in Montreal Gazette's society mag Diary of a Social Gal (PRINT EDITION) issue #1 http://diaryofasocialgal.com/virtual-magazine/
Before I reprint the essay, here are some wedding pix of me and Dave. Oh, yes, and my Erdem wedding dress of course!! Lucky me on many counts. FYI, the dress had a ceremony look, with cape and veil, and then it was just the sultry dress for the party portion of the evening..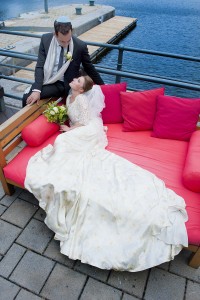 Right after the ceremony: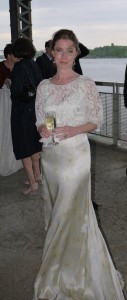 Then, check it out!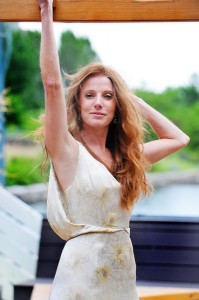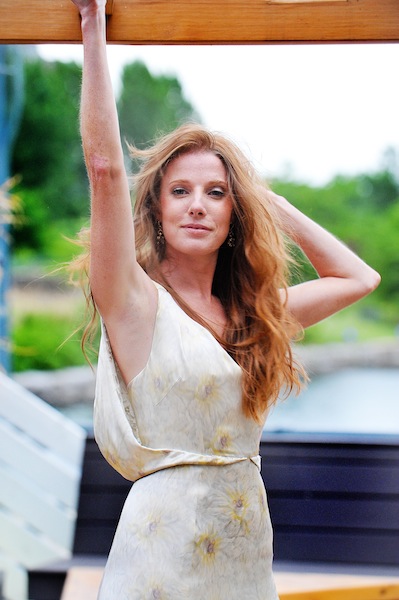 Ka-Pow! Ok, that was fun. Will stop posting photos of my own wedding. Now on to the actual essay, which actually has to do with planning the wedding in it's entirety and not just the dress, though that part was obviously beyond amazing.
THE TAMING
OF THE ANTI-BRIDE
A recent bride's unbridled account of planning her wedding
BY SUZANNE WEXLER 
 When shows like "Say Yes to the Dress" or "Wedding Story" come on, I invariably flip the channel. Even as a little girl, I never had secret fantasies of wearing a puffy white dress, à la Princess Kate, or having an ornate ball thrown for me and my prince.
Tall, dark, and handsome Dave fortunately saw things the same way. When we decided to exchange vows, we envisioned the nuptials as a laid-back affair by the river at our new cabin in upstate New York.
Of course, the next thing we knew we'd reserved the glass encased Belvedere Room at the Montreal Science Center. Our guest list burgeoned from about 60 to 160 in a nanosecond. Then there were overseas guests to consider.
The room was still on the water—the same body of water, in fact. Plus, there was "science" in our venue's title, which seemed to keep things real. So in the name of just making a decision, our bucolic BBQ gave way to an upscale urban-chic soirée. 
We were glad about throwing a snazzy shindig, but the trick now was to refuse cliché. That is, to avoid having a wedding with stiff-looking centerpieces and big white bows wrapped around chairs.
We'd already managed to reject the diamond engagement ring, and knew that high-rolling bridal norms were tricky to avoid. 
Unless couples boldly wear head-to-toe red outfits to the ceremony, the industry—along with its plentiful cheerleaders—shamelessly strong-armed you into convention. Meanwhile, we simply wanted a fun and fancy wedding with no cake and no froth. No problemo, right?
THE DRESS
At first, it was difficult from me, or anyone, to imagine incorporating an outdoorsy country style into a swanky indoor venue. So, as the designated organizer, I decided to focus on my slightly unconventional wedding dress instead.
Having famed Montreal-turned-London designer Erdem Moralioglu as a close pal and potential wedding dress couturier was ideal, since he's not in the bridal business per se. Rather, his runway collections feature stunning, picturesque party dresses, which may be white, but just as easily not. As a generous personal favor, he happily agreed to the project. He suggested going with a pattern.
"Yes," I said, practically swallowing the phone. An image of an old-timey art deco dress flashed before my eyes. I then mentioned that I wanted the dress to be sultry, but still modest enough for the rabbi. Erdem said he wanted the dress have "a slit and really long train". So lovely to agree.
We met up in New York and had virtual fittings via Skype. My mother even joined in and helped select among all the beautiful fabrics Erdem proposed, choosing a champagne silk satin with the palest yellow floral print.
Minus the fact that whenever Erdem and I sent the dress in the mail it kept getting momentarily lost or seized by customs, the whole outfitting project was a whirl. Even Dave seemed to grudgingly enjoy our day at Harry Rosen selecting his Dolce & Gabbana tux, and sealing the look with a skinny tie and a silk Armani scarf.
(Don't worry more pix follow this story!!!)
THE PLANNING
Our design-it-yourself wedding was off to a positive, albeit effortful, start. Inspired by Erdem's dress, I was now likening the affair to a garden party in Italy. 'Dress Beautifully' was printed on our eco-friendly invitations instead of 'Formal Dress'. While it may have taken some explaining, our best collaborators turned this concept into magic. Giorgi Romano of Tradition Catering presented us with an elegant family-style meal of self-serve mashed potatoes and Tuscan salad, along with an à la carte portion of roast prime rib of beef. Gilles Lord and Denis D'etcheverry of Flore nailed the garden cut spring-inspired arrangements of tulips, roses, and lilacs, which were scattered about the table with fresh basil and parsley. So light, so fresh.  
Others interpreted our concept as "shabby chic"—not quite, but at least they were trying.  And family members were somewhat weary of the twenty-four person banquet tables we'd chosen, but they eventually agreed.
Meanwhile, big problems arose after I hired a wedding planner to help coordinate the busy day. Next thing I knew, I was flooded with her endless bridezilla emails about 'The candle holders!', 'The first dance song!' And she really lost the plot when she set-up our nature-inspired ceremony indoors on our overcast wedding day ('The old ladies' hair!' she fretted.). Fortunately, Erdem and Denis from Flore took creative control and reinstated the riverside plan.  
Another bridal cupcake was thrown in my face when we took a horse and buggy ride from the St. Paul Hotel to the ceremony on the pier's edge (I was inspired by the film 'Barefoot in the Park'). The carriage came to a halt about a football field-length away, as it was banned from the property. Dave and I had to sprint all the way to the ceremony—and I was wearing four-inch heels.
Such an ironic entrance for Erdem's gasp-worthy dress, I considered puffing past the IMAX. But if we wanted a carefree wedding, it was obviously time to let go of the reigns.   
TA-DA!
It all came together in a blissful crescendo. As I walked down the aisle, I saw my friends and family gathered around—some were standing, some were sitting, some were holding cocktails. All were smiling. Then there was the handsome Dave, standing overlooking the river. A day cruise ship had come to a halt below, and dozens of tourists started snapping pictures of us. Spontaneous, indeed.    
For the religious ceremony, Erdem created a delicate lace cape that fastened from behind, concealing my plunging neckline. He then embroidered lace flowers onto the gown's three-meter train and then onto the veil, so that the fabrics all blended into each other. The look was more bridal than I originally anticipated, but it was in perfect harmony with the flowing lace huppa we'd rented, and the sinuous satin of my dress and Dave's scarf rippled in the wind. Our guests were so taken by the moment that many joined in song with our female cantor and good friend Daniella Gesundheit of the band Snowblink.   
The party portion of the evening overlooked the city's glorious twinkle. For music, we had a bongo player start things off, and then DJ Jonny Jungle masterfully mixed dance tunes with the rustic rock music we'd requested (Elvis Costello, Dolly Parton). But by far the best song of the night was performed by Dave himself, who dazzled me by singing me the coolest version of CCR's 'Suzie Q' imaginable (adapted as 'Suzie W') with his incredibly talented friends joyously banging on pots and pans as accompaniment.   
As I kicked up my sparkling René Caovilla heels, my messy up-do came down and my lace cape came off, leaving me with the sultry satin finish of the old Hollywood-style gown. I can still feel Dave's hands on my waist as we danced the night away, cavorting like a freewheeling couple at a Frank Sinatra party.
Yes, ours was something of a high-maintenance affair—and no, we didn't exactly stick it to the bridal industry. But all that stiffness we ultimately feared had been sucked away. Instead, tradition was balanced with the pushes and pulls of modern whimsy; even the dress's floral motif echoed the garden-style table arrangements, as the breezy essence of the outdoors and indoors fused together.
Funny to think, I now dream of my wedding day after the fact. And because we dared to unravel the bridal box, potential clichés like the dress, the flowers and the menu—along with one sweet serenade by the groom—turned out to be the icing on the cake we didn't even have. 
Now for more pix! (I hope this is as much fun for you as it is for me.. I hope you read my next essay too btw)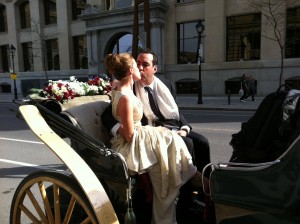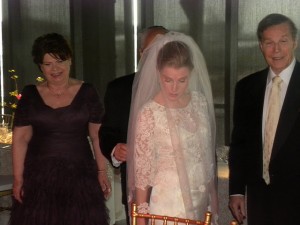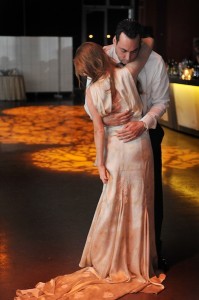 The happy couple! We took these after the wedding incidentally. Got all dressed up again about a month later, new bouquet and everything.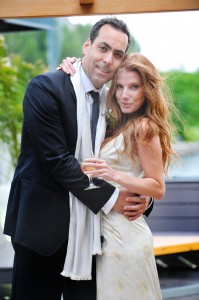 Dressing-Up for Shul
  * This humour essay was published in snippets on the Huffington Post, and full on Shtetl Montreal, a radio show and website with fun, new-Jew twists.
Dressing-Up for Shul: A nostalgia essay
______________________________________________________________
When I was a kid, my mom — a converted shiksa with blond hair and a southern drawl — would have me and my sister Alana model our synagogue best, from orange gingham jumpers to plaid blue kilts with white turtle necks, weeks before the Jewish high-holidays. If the clothes didn't fit, she'd scour the shops for new ones. She wanted us to look "appropriate" for synagogue, as she called it.
A woman of details, mommy would also inspect our white stockings for runs and make sure our black and white saddle shoes were polished. Then she'd also take us to get our red hair freshly trimmed into bowl cuts, and have the beautician scrape all the specks of dirt from beneath our fingernails.
I assumed that mommy was so obsessed with us looking appropriate because she looked and sounded so different from the other women at our modern Orthodox shul ('synagogue' in Yiddish) in Montreal, where the congregation just stopped short of traditions like top hats and wigs.
Read the rest of this page »